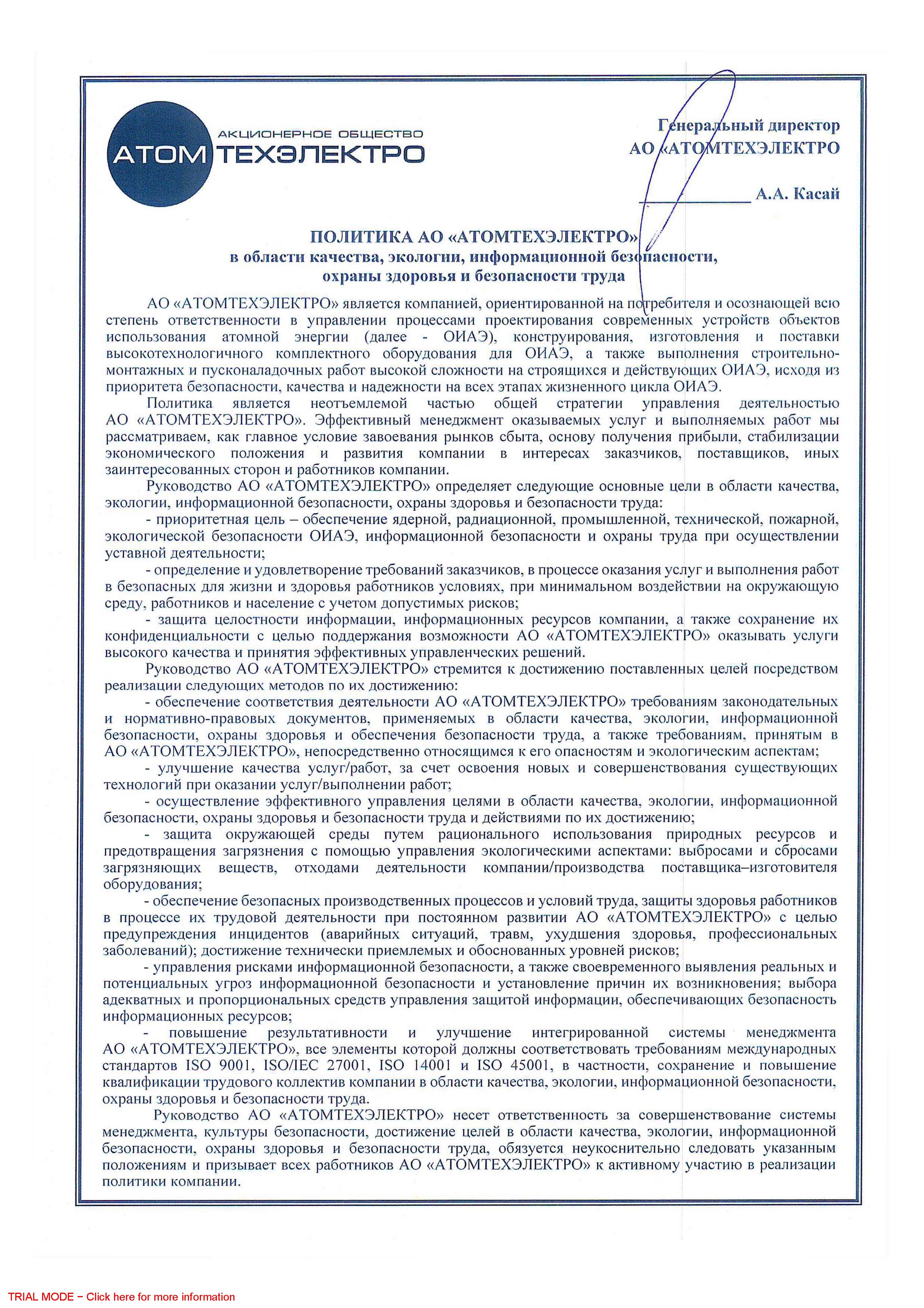 With economy developing and competition getting fierce in Russia, a company's success depends on the quality of manufactured products and provided services, the quality of organizational management and procedures within a company as well as long-term partnership with suppliers and consumers. Use of the quality management system makes business more competitive, besides, it allows to coordinate processes aimed at constant and continuous improvement of a company performance.
Quality management system applied at JSC Atomtehelektro is certified in compliance with the international standardGOST ISO 9001-2011 (ISO 9001:2008).
We view effective quality management of the provided services as a primary condition for achieving a dominant position in the market, a necessary basis for generating profit, maintenance of the operational stability and company's development for the benefit of clients, suppliers, staff and partners. The quality promotion policy is an integral part of our company's strategy.
JSC Atomtehelektro's executives consider nuclear, radiation and industrial security throughout an object operating time to be company's best priority. Company also guarantees safety for each employee: safety management system and labor protection complies with the international standard OHSAS 18001:2007 (GOST R 54934-2012).
Pursuant to the Federal law №426 (adopted on 28 December 2013) "On special assessment of working conditions" such special assessment was undertaken at Atomtehelektro in September 2015. All work places were accredited as optimal or acceptable (the 2-nd grade), harmful or hazardous factors were not defined.
Measures for improving and securing of safe working environment are run regularly, they include:
- instructing, training and validation of knowledge on labor protection;
- provision and correct use of personal and collective protection devices;
- control for drinking regime, for work and rest schedule within the company;
- heating, ventilation and temperature control on the premises.